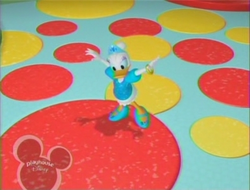 Daisy's Dance is the 11th episode of Mickey Mouse Clubhouse.
Daisy has to get to the talent show to perform her new dance (jump foward, jump backward, clap, clap, clap, march, march, march, slide to one side, slide to the other side).

Mousketools
This is another episode where there are three mousketools instead of four.