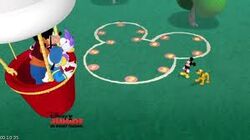 Mickey's Big Surprise is the 40th episode of the second season and the final season 2 episode.
Mickey has a big surprise for his friends. Will fireworks be it after five puzzles are being solved?
Characters Present
Edit
Mouseketools
Edit
This episode was first released exclusively on the Playhouse Disney website in February 2009, a year before its official broadcast.
This is the first episode to have a Mouske think-about-it tool. The use of the Mouseke think-about-it tool appears again in Goofy's Thinking Cap, and also appears in 7 My Little Pony episodes (Games Ponies Play, Three's A Crowd, Made in Manehattan, Every Little Thing She Does, Celestial Advice, Fake It Til You Make It, Sounds of Slience). The Mouseke think-about-it tool is also mentioned in Amending Fences.
GOOFS
In the scene where it turns into night, It is night, then it is light behind Goofy, then dark again.
End Credits
Edit
Recapping how Donald hopped on the numbered stones by tens.
Mickey: (Singing) A-fizzle, a-fuzzles. It's fun to solve my puzzles. A-fizzle, a-fuzzles. Let's go!
are you ready for some fun? it's fun puzzle number 1