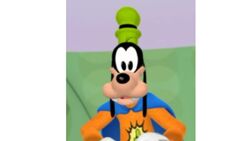 Super Goof's Super Puzzle is an episode from the third season.
Goofy uses his alter ego Super Goof to help his friends solve Puzzler's Pete's challenging puzzles for are friends 2008.
Mousketools
Edit
A Giant Horn
A Baby Rattle
Bouncy Shoes
An Elephant
End Credits
Edit
Recapping the puzzle, "Spot the Difference", and the tune to open the Clubhouse mailbox.