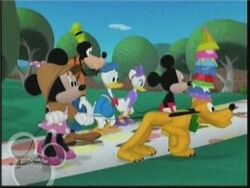 The Friendship Team is an episode from the second season.
Detective Minnie and Secret Spy Daisy must find all the 12 party hats for the Friendship Day party for friends
Characters Present
Edit
Mousketools
Edit
Transcript
Edit
Minnie and Daisy now announce the title of this episode after the theme song.
Minnie and Daisy's alter ego's-- from "Minnie's Mystery" and "Secret Spy Daisy"-- are joined together in the episode.
Minnie is a detective for second time.
Daisy is a secret spy for second time.
Is the seventh party-themed-episode.
Daisy wears the spy goggles for second time.
Allusions
Edit
Mickey's party hat is a parody to the sorcerer's hat.
End Credits
Edit
Recapping how many party hats the Friendship Team found and the shape they were made in.